OBTPS WEEKEND DIGITAL UPDATE - NOVEMBER 5, 2020
On November 9th ALL cohort 1 students grades pre-k thru 12 will return to school. We look forward to this day and seeing our students in our schools once again. Please take a minute to review the information below and view our high school reopening video.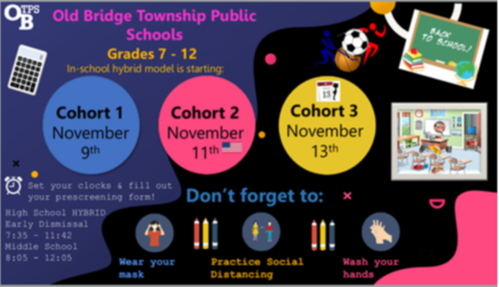 REMINDERS:
· Student prescreening forms will be accessible in REALTIME effective November 9th
· The form will be available at 5:00 AM each day and must be filled out prior to the start of school
· Only students attending in-person learning must complete the form on their in-person learning day(s)
Our district staff continue to be available Monday through Thursday from 6:30-7:30 PM through our Night School offering. This service is accessible through grade level links found on our website.
If you require assistance with a device or connectivity, please reach out to our technicians using obtechs@obps.org.
Domestic Travel:
During the COVID-19 Pandemic, a fourteen (14)-day quarantine travel advisory announced by the Governors of New Jersey, New York, and Connecticut, is in effect until further notice. Individuals traveling to or returning to New Jersey from states with increasing rates of COVID-19 are advised to self-quarantine for 14 days. This includes travel by train, bus, car, plane and any other method of transportation. The 14-day quarantine travel advisory applies to travel from certain states identified as those that have a positive COVID-19 test rate higher than 10 per 100,000 residents or have a ten percent (10%) or higher positivity rate over a seven-day rolling average ("impacted states"). This advisory is updated regularly by the State of New Jersey, and may be found at the following link:
https://covid19.nj.gov/faqs/nj-information/travel-and-transportation/which-states-are-on-the-travel-advisory-list-are-there-travel-restrictions-to-or-from-new-jersey
Foreign Travel:
In addition, any person that has traveled outside of the United States, and has traveled to any country that is considered on the international list of countries that are Level 3-High Risk, must also quarantine for 14 days prior to entering the school building. Again, please check the most up-to-date list before traveling.
https://www.cdc.gov/coronavirus/2019-ncov/travelers/map-and-travel-notices.html
Travelers and residents returning from impacted states or countries should self-quarantine at their home. Individuals should only leave the place of self-quarantine to seek medical care/treatment or to obtain food and other essential items.
If any student, parent/guardian chooses to travel to a state or country that is on the advisory list at the time of travel, it is expected that they quarantine for 14 days upon their return, consistent with the New Jersey and CDC travel advisories.
Please also note that these lists are fluid and are changed daily, and these changes must be adhered to. This is for the safety of our entire community. Truth and honesty is required for the health and wellness of our staff, students, and their families.
Parents/guardians MUST make arrangements for their child(ren) to continue school for the 14 days of quarantine as REMOTE LEARNERS. The students will not be permitted into school during this time. If the child attends their classes REMOTELY, these days will not count against their absences. However, if the student misses remote instruction during a vacation or subsequent quarantine, these days will count as unexcused absences.
Please remember to report close contacts with a COVID positive individual and travel to your school nurse.