OBTPS Weekly Update - December 18, 2020
This week our students enjoyed a good old fashioned snow day. We have received many photos and will announce the winners of our snowman contest on Wednesday.
We received several contributions for our door/window decorating contest with the following winning submissions:
Contest winners will be contacted through email and our winners will receive a gift card from one of our local sponsors: Dunking Donuts, Bagel Boy, Giuseppe's or Friendly's. Congratulations!

Parent Support:
All things related to our remote learning platforms and technology may be found by accessing the link below. Resources you will find her include how to utilize Microsoft Teams, Envisions Math, Newsela, IXL, Think Central as well as enabling Wi-Fi and device troubleshooting. There is also an area to simply ask a question and receive a response from one of our technicians.
https://wakelet.com/wake/P4DnnDk6VNxeoFwZoZWvQ
Teacher Coach:
Teacher Coach is a resource our district has partnered with to provide support not only for our staff but for our parents. You may access these resources using the following link. Webinars and workshops are available for access at your convenience on a variety of topics including social emotional learning, behavioral health, parenting in a Covid world and supports for students working with learning disabilities.
Dr. Jared Scherz offered a live webinar on Thursday evening that will be available this weekend for any parents who were unable to attend.
https://obtps.teachercoach.com/join-portal/?BackURL=%2F
Student Performance:
Take a minute to view an impressive virtual concert performed by CSMS students, you won't be disappointed: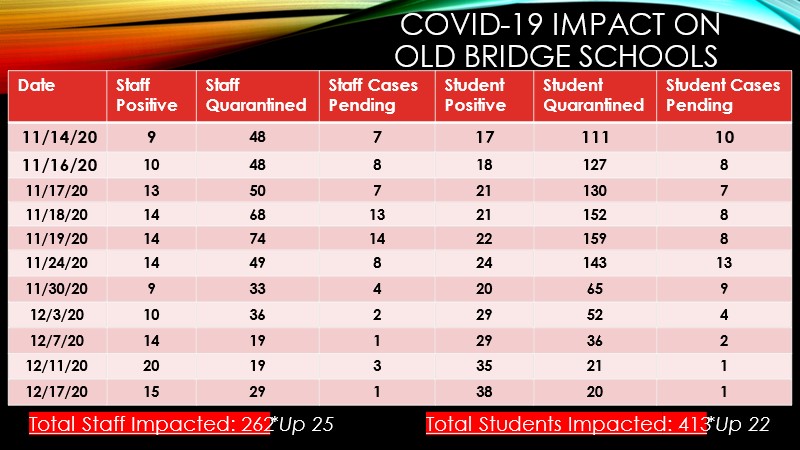 As we approach the holidays, Old Bridge is expanding our COVID testing opportunities to provide greater reassurance as families gather the next few weeks. Testing will take place Saturday, December 19th, Monday, December 21st, and Tuesday, December 22nd. See link for details.
https://t.co/8vsPACHObg?amp=1

Events:
Class of 2021 Light Up the Knight Holiday Drive Thru: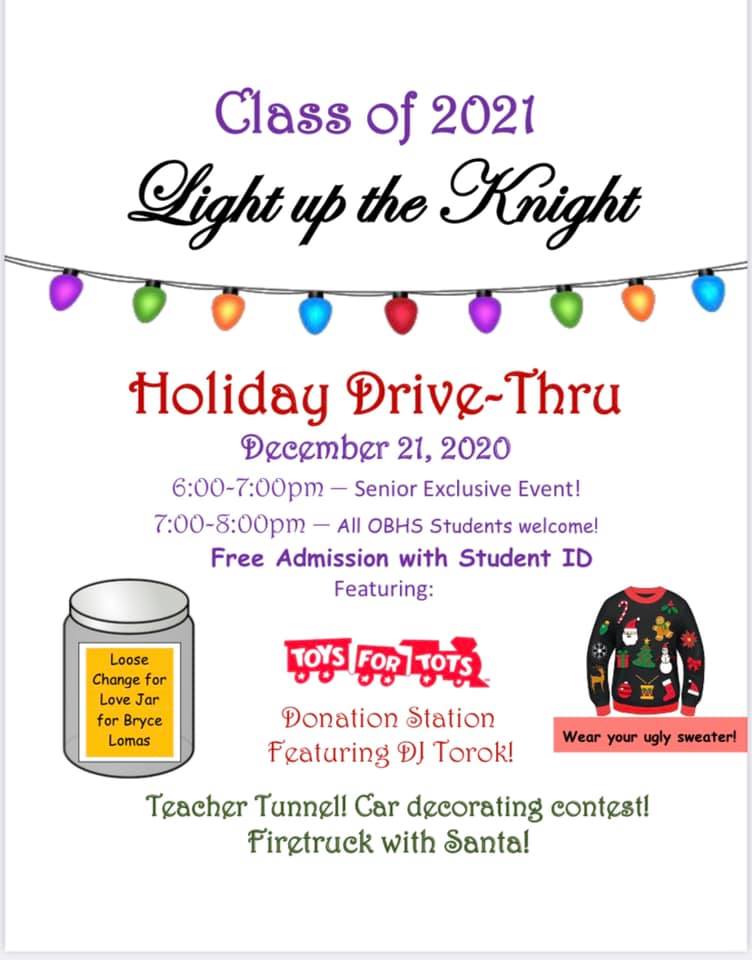 Mid-Terms/Conferences:
The pandemic has caused the district to modify the traditional platform used to conduct Parent Conferences and administer student Mid-Terms. Please see the memorandums below related to both Parent Conferences & Mid-Term Exams.

January 2021 Parent Teacher Conferences

Stay tuned for January updates on events, learning resources and special opportunities.