OLD BRIDGE RE-OPENING PLAN
OBTPS Weekly Update - January 8, 2021
As we continue to face unprecedented circumstances in both American and World history, we remain committed to our students, our staff, and our Old Bridge families. We knew that following our winter recess we would face potential surges in COVID-19 cases. However, we remained hopeful that we would be able to reopen our doors. At this time, Middlesex County is identified by the Department of Health as a "high risk" status for transmittal with the number of Old Bridge daily cases at its highest since the start of the pandemic, averaging between 45-50 daily and a high of 81.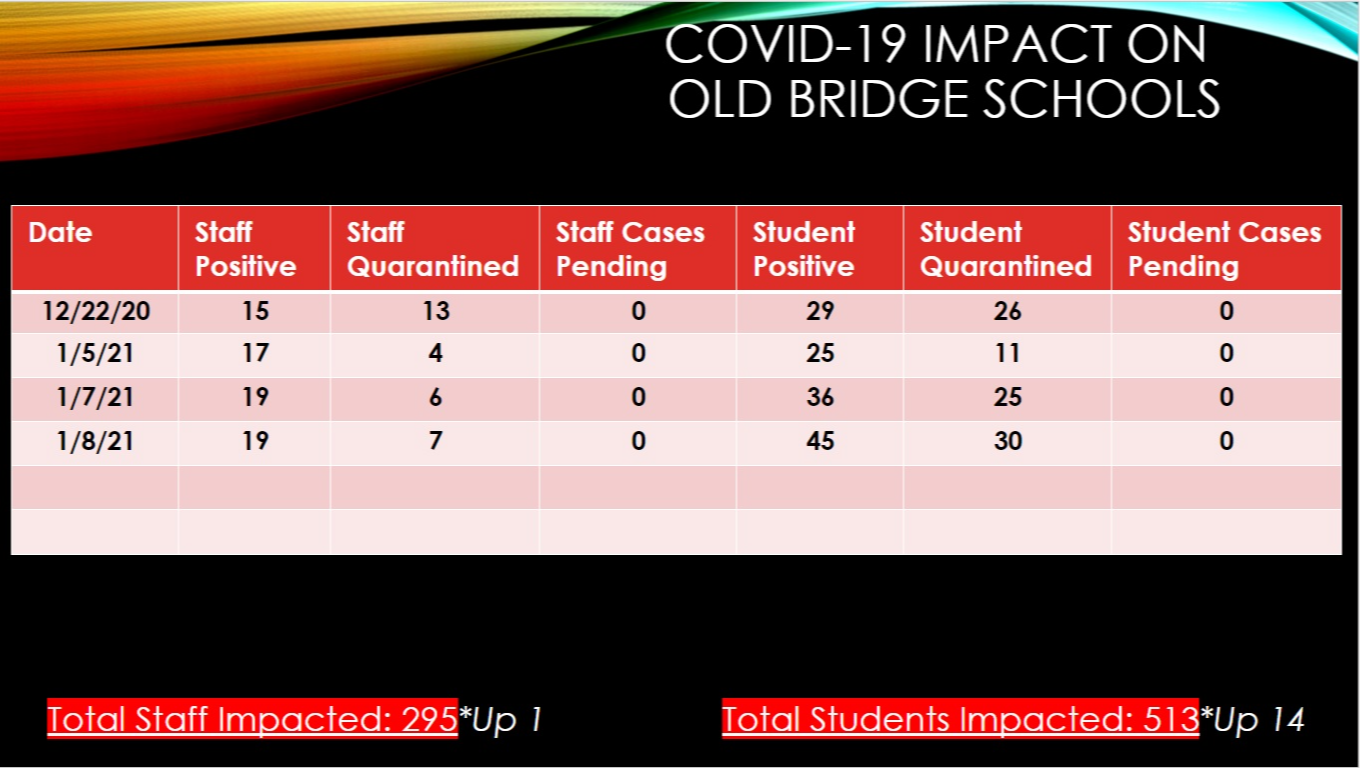 After reviewing our status with the health department and local professionals, staffing requirements, survey data and meeting with our task force, we are hard pressed to find the ability to reopen the schools for in person instruction in the immediate future. Details including dates, schedules, and various data points will be provided to parents on Monday.
Our updated reopening plan will be accessible on the district website January 11, 2021.
The district taskforce will continuously monitor COVID data looking for trends in which the pandemic is consistently regressing. As of this week, each day the state and county breaks new records for new infections as the death toll climbs. The fire of COVID is raging and rushing our students and staff into the fire would be ill advised. It is essential that we wear masks, remain home when possible, do not gather in groups and make every effort to reduce contamination. When we return in person, we will return at 50% capacity using an AA/BB schedule with the goal of remaining open for the remainder of the school year. We do not want to reopen the schools only to close them 2 weeks later due to COVID cases and quarantine requirements.
We are making additional adjustments to our current remote learning schedule to include Wellness Wednesdays. Beginning on Wednesday, January 20th, and each week following, Old Bridge Township Public Schools will implement a half-day schedule every Wednesday for students until further notice. The afternoons on Wednesdays should allow students to catch up on missed work, schedule time with their school counselors, CST case managers, SAC counselors, or teachers to address concerns they have with the remote learning platform. Teachers can utilize this time to communicate with students and parents and plan for additional classroom activities.
To provide additional resources for our students while working remotely, we have planned for a distribution of materials for our K-8 learners. Principals will communicate directly with parents regarding building distributions which will include additional technology equipment for kindergarten and grade one as well as new volumes of consumable workbooks.
Parent conferences begin on January 11, 2021. This is an opportunity to discuss your child's progress and both educational as well as mental health needs. Please sign up using the Realtime Parent Portal.
Jonas Salk and Carl Sandburg Middle Schools will have their conferences on Monday, January 11, Tuesday, January 12 and Thursday, January 14, 2021.
All Elementary Schools and Old Bridge Preschool will have their conferences on Tuesday, January 19, Wednesday, January 20 and Thursday, January 21, 2021.

Old Bridge High School and EMGNC will have their conferences on Tuesday, January 26 and Thursday January 28, 2021.
January 13th is a scheduled district wide early dismissal for staff professional development. All students will be released following our early dismissal schedule. There will be no classes or office hours on Wednesday, January 13, 2021.
In January, we will provide multiple "Parent University" workshops/webinars for parents. We are collaborating with the YMCA and in district staff to provide meaningful and relevant content. In addition to mental health and academic topics, we are offering mindfulness yoga classes for parents, staff, and students beginning Monday, January 11, 2021. More information is included in the January infographic.